Turkish Regulatory Officials Allotted Intense Positions Within CoinTR
Istanbul, Turkey, 27th October 2023, ZEX PR WIRE, CoinTR has announced the appointment of five senior officials from local financial regulatory agencies and the National Bank of Türkiye to various key positions within the company. This is the first time in history that high-ranking regulatory officials have become involved with a crypto exchange on such a large scale.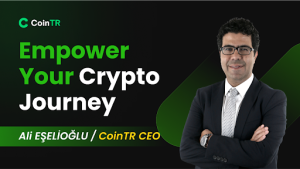 Notably, these officials will play critical roles in ensuring compliance, global development, and the use of blockchain and Web3 technology to improve the Turkish economy as well as promote new economic growth drivers within the country.
What role will the officials play?
Following the initial announcement by CoinTR, the Istanbul Trade Registry Office has since issued an official statement confirming the successful completion of the aforementioned transition. The newly appointed officials will all have their respective roles, starting with Sakir Ercan GÜL, the Former Deputy Finance Minister and Chairman of Türkiye's Savings Deposit Insurance Fund, who will now act as Chairman of the Board at CoinTR. Sakir Ercan GÜL actively promoted legislative work related to crypto trading during his tenure at the Ministry of Finance, contributing to the acceleration of the compliance process in the country.
Moreover, Ali Eselioglu will act as the new CEO of CoinTR. He previously served as the Deputy Executive Director Of The Central Bank Of The Republic Of Türkiye. Ali brings nearly 28 years of traditional finance and banking experience, as well as a comprehensive understanding of Web3 and the digital economy to the table.
Ergun AKINCI, currently Chief Adviser to Türkiye's Central Bank, and Mehmet Emin KARAAGAC, former Deputy Governor of Türkiye's National Bank (Vakiflar Bank), will both serve as CoinTR Board Members. Finally, Yakup DEMR, who acted as the former Senior Banking Chief Expert, Manager, and Deputy Head of Department at BDDK, will now serve as CoinTR's Chief Compliance Officer.
Crypto is growing within Türkiye
Türkiye is quickly emerging as one of the world's most promising cryptocurrency markets. The rising inflation rate alongside an increasing number of crypto investors among locals aged 18 to 60 reflect the Turkish public's growing interest in and acceptance of crypto. The depreciation of the Turkish lira has similarly increased overall interest in cryptocurrencies as an inflation hedge.
With such a high level of intrigue, the Turkish government is looking into opportunities in the cryptocurrency and Web3 domains, and the recent takeover of CoinTR by Turkish regulatory authorities shows that Türkiye is actively involved in the development of this industry.
"Türkiye has become one of the most active countries in cryptocurrencies and Web3, with nearly ten million crypto users," said Sakir Ercan GÜL. He added that CoinTR aspires to work alongside global industry partners to promote the development of cryptocurrencies and the Web3 field in Türkiye, thereby creating new economic drivers in the region.
Additionally, Ali Eselioglu emphasized the exchange's commitment to providing secure and stable trading services, which are backed up by a team of core product technology and wallet security experts, including the former Vice President of Huobi Group David Liu, the former Head of Platform Development for Huobi Global, alongside individuals responsible for both backend and frontend development, as well as wallet development teams. In fact, 90% of the product technology team is sourced from the top three exchanges.
About CoinTR
CoinTR, founded in 2022, is a global cryptocurrency exchange headquartered in Istanbul, Türkiye, dedicated to providing users worldwide with secure and compliant trading services. The exchange boasts a team of experts with a wealth of knowledge from a variety of top crypto exchanges and is committed to fostering the growth of local crypto-oriented and Web3 industries. CoinTR also actively collaborates with several industry partners to continuously create new opportunities for regional economic growth.
Türkiye's strategic geographic location and economic stability, combined with rising local cryptocurrency adoption, provide a significant opportunity for the country to become a key player in the global Web3 and crypto markets going forward.
For more information, and regular updates, visit the official website as well as the X, Telegram, Instagram, Medium, and YouTube channels.
Company: CoinTR
CEO Name: Ali Eselioglu
Email: [email protected]
Location: Turkey\Istanbul