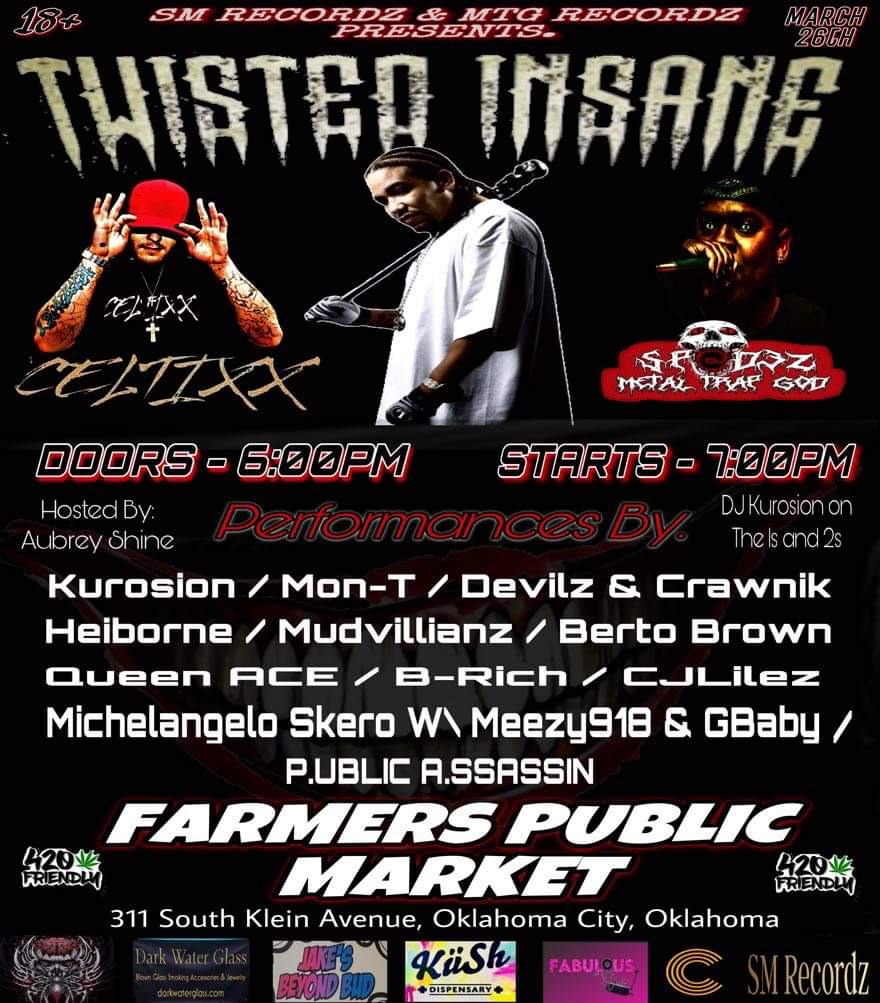 Oklahoma, US, 7th Feb 2022, ZEXPRWIRE, March 26th, 2022 at Farmers Public Market in Oklahoma City, Oklahoma. 18+
DJ KUROSION On The 1s and 2s!
(DOORS @ 6pm)
(STARTS @ 7pm)
(Co-Headliners):
Celtixx
Spadez
(Opening Performances by)
Kurosion // Michelangelo Skero w. Guest // Mon-T // Heiborne // Devilz N Crawnik // Mudvillainz // Berto Brown // Queen ACE // B-Rich // Chris Lyles
Hosted and Radio Advertised by:
"AUBREY SHINE" From 105.3 Kjammz HipHop and R&B Hits!!
(Sponsored By)
Jakes Beyond Bud Dispensary, Fabulous Flix, Cough Dispensary, KÜSH Dispensary,
(Presented by SM Recordz, MTG Recordz, and Brainsik Musik
GET YOUR TICKETS NOW ON EVENTBRITE or $15 at the door
https://facebook.com/events/s/twisted-insane-live-in-okc/1067573800665753/
https://www.eventbrite.com/e/twisted-insane-live-in-okc-tickets-219615524947
Media Contact
Company Name:-Twisted Insane
Website:
https://facebook.com/events/s/twisted-insane-live-in-okc/1067573800665753/
https://www.eventbrite.com/e/twisted-insane-live-in-okc-tickets-219615524947
Email:
Spadez: [email protected]
Celtixx: [email protected]
Contact Number:
Spadez: 9188612200
Celtixx: 5399001788