Lewisville, Texas, 6 Nov 2021, ZEXPRWIRE, World Trumpet Honors Ceremony 2021 is all set to go live worldwide on the World Trumpet TV Network. The ceremony aims to honor the individuals, or groups, ministries, and churches, that have a positive impact on the world via acts of mercy, compassion and acknowledging the needs of those whose lives are in desperate need of comprehensive transformation. This event emphasises the significance of togetherness and provides a platform of recognition for the many unsung heroes who are on the frontlines every year, saving lives in our community and around the world.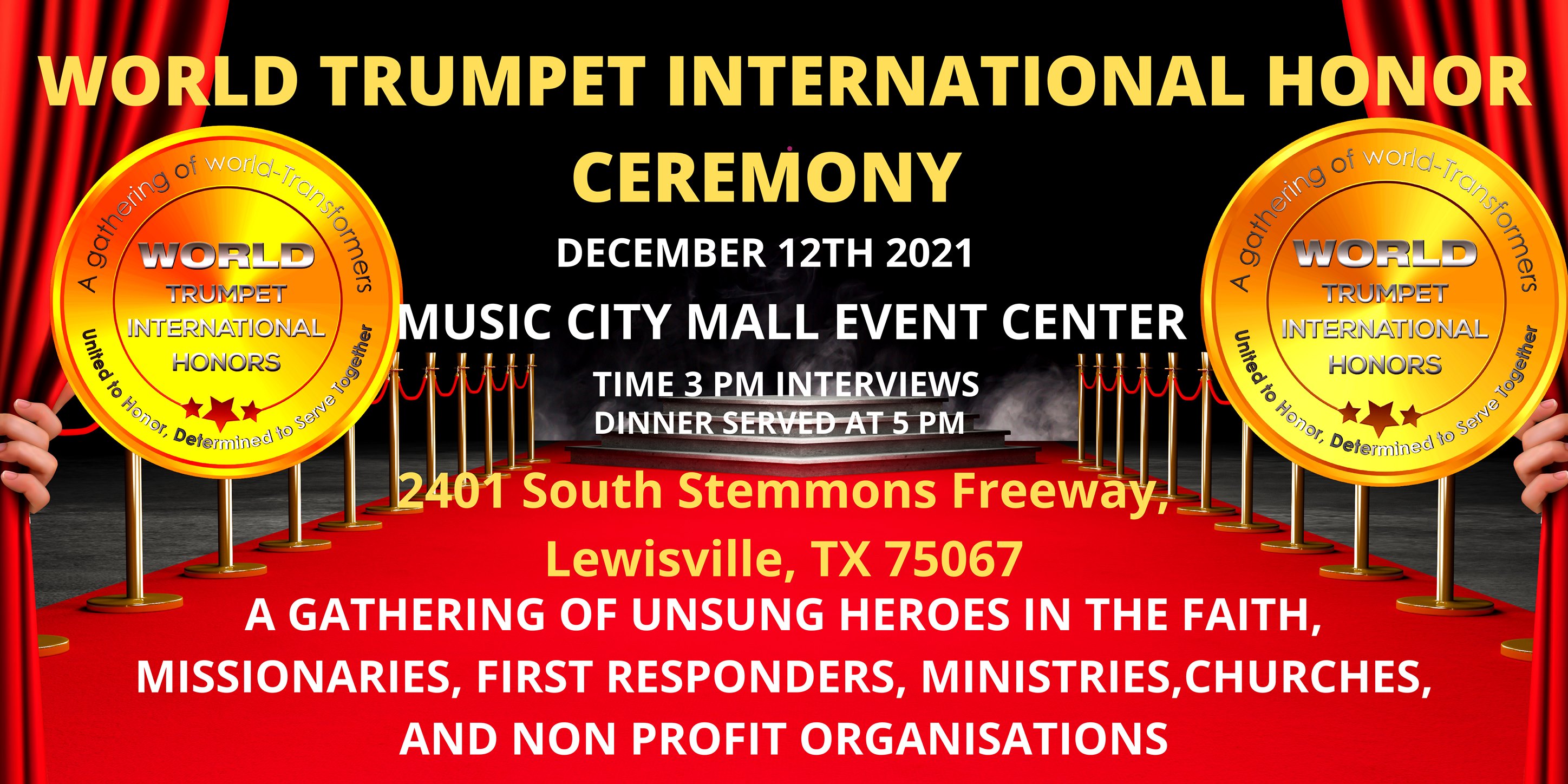 The event which is going to be live on Dec 12, 2021, brings together all non-profit, and for-profit organizations, first responders, ministries, and churches, which are playing a crucial role in bringing change in society. The event will be enlightened by the presence of special guests like HIS ROYAL MAJESTY KING Oyo Nyimba Kabamba Iguru Rukidi IV of Toro and Queen mother Queen Best Kemigisa of Toro and many others
The event is organised to acknowledge the contribution of people all around the world. It includes various worldwide groups including the people from cities like Africa, South America, Eastern Europe, India, and Pakistan. The ceremony night offers the unsung heroes an opportunity to narrate their stories to the world out there. The heroes are honored for their work to reduce poverty, provide access to education, feed orphaned and hungry children, and healthcare clinics in most poor nations.
Here's what the PRESIDENT AND FOUNDER DR. MIKE KINGSLEY
WORLD TRUMPET TV has to say about event hosting,
"We are proud to share the stories of these unsung heroes, missionaries and doctors, ministries, businesses, individuals, philanthropists, and charities dedicated to spreading love and kindness throughout the world. They will convey their tales and the influence they have on a hurting world on this special night. World trumpet international awards is glad to broadcast this event live on our television network around the world."
About
World Trumpet international accolades were created by World Trumpet television, a network that broadcasts these unsung heroes in world mission fields and their transformational stories around the world. It aims to encourage, enlighten, unite people to serve together, and educate human minds to the realization that our ailing world still needs our help, and we are called to be the light.
For more information, please visit http://www.worldtrumpethonors.org/
Contact Information
Address: Lewisville, Texas
469-920-5200