ALINK AI Advances with New Mobile App putting the Might of AI into User Palms
Paolo Alto, USA, March 13, 2023, ZEXPRWIRE, ALINK AI, a US-based project, recently announced its latest progress in creating a blockchain-based open and decentralised marketplace for Artificial General Intelligence (AGI) services. ALINK AI's platform allows anyone with an internet connection to request and provide services related to AGI, utilising cutting-edge machine learning techniques and user participation to improve the accuracy and performance of its models. The platform's unique approach combines user participation with machine learning techniques to create an engaging and rewarding experience for its users.
The project has made significant progress in recent months, with the release of its new mobile app that allows users to label unclassified data in a game-like environment, improving the accuracy and performance of its machine learning models. The app features a user-friendly interface and graphics, designed to engage and captivate users of all ages and backgrounds. It is now available on both Apple AppStore and Google Play. At the time of this writing, it has attracted over 10,000 installs from Google Play and is ranked #2 in the Libraries and Demo category on Google Play Rankings for the US.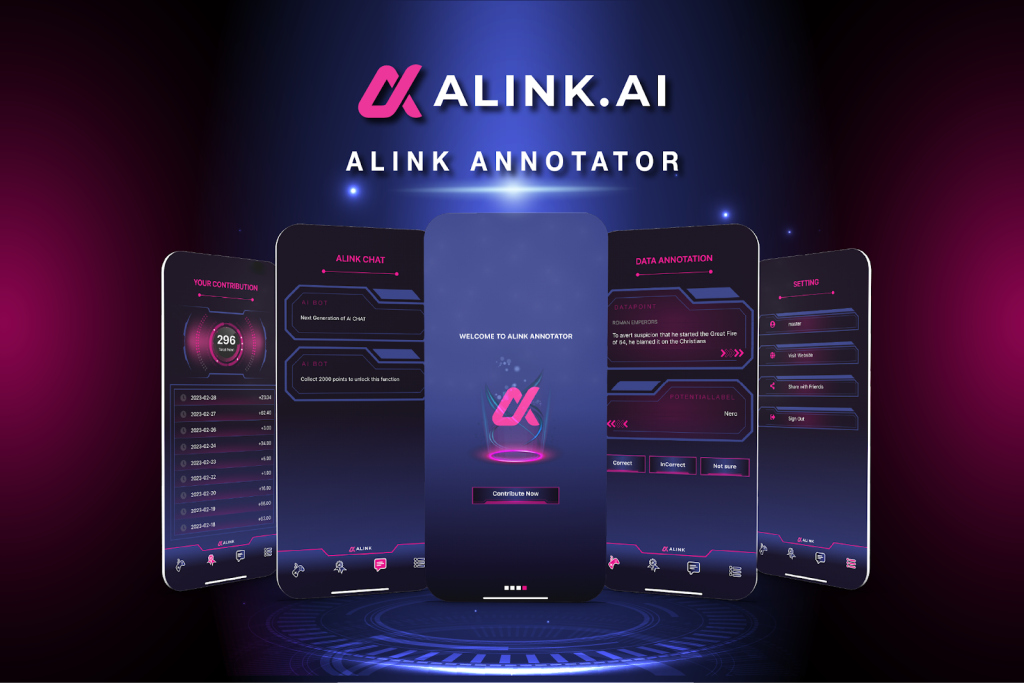 The app also includes ALINK Chat, a chat-based assistant designed to make users' lives easier and more efficient. Leveraging the powerful LLMs, ALINK Chat delivers highly accurate and timely responses to users' queries and requests. Additionally, ALINK Chat records and analyses user feedback to continuously enhance its capabilities and tailor its services to individual users. Whether the user is seeking advice on a particular topic, needs assistance with a task, or simply wishes to engage in conversation, ALINK Chat is the perfect tool to meet such needs.
To access ALINK Chat's features and other AGI services, users may need to possess ALINK token which is already tracked by top crypto indexers such as CoinMarketCap and CoinGecko. To further enhance the user experience, ALINK has also introduced a staking feature, whereby users can stake their tokens for a certain period of time to gain "credit". This credit can then be used to pay for advanced inquiries, making it easier than ever to access the expert insights and advice provided by ALINKChat. ALINK is once again at the forefront of technological innovation, providing users with unprecedented access to advanced AI-powered services.
ALINK AI's team is constantly working to improve the platform's capabilities and expand its reach. The project aims to revolutionise the AGI industry by creating a decentralised ecosystem that facilitates the development and deployment of AGI services. By leveraging blockchain technology, the platform ensures transparency, security, and efficiency in the provision of AGI services. With the launch of its new mobile app and continued progress in developing advanced AI algorithms, ALINK AI is poised to become a leading player in the AGI industry.
Media Contacts
– Website: https://alink.ai/
– Telegram: https://t.me/Alink_AI
– Twitter: https://twitter.com/ALINK_AI
– Youtube: https://www.youtube.com/@Alink_AI_Channel
– Medium: https://medium.com/@alinkai