BULLZ and Tertie Partner To Help Brands Cut Through the Crowd and Succeed in Web3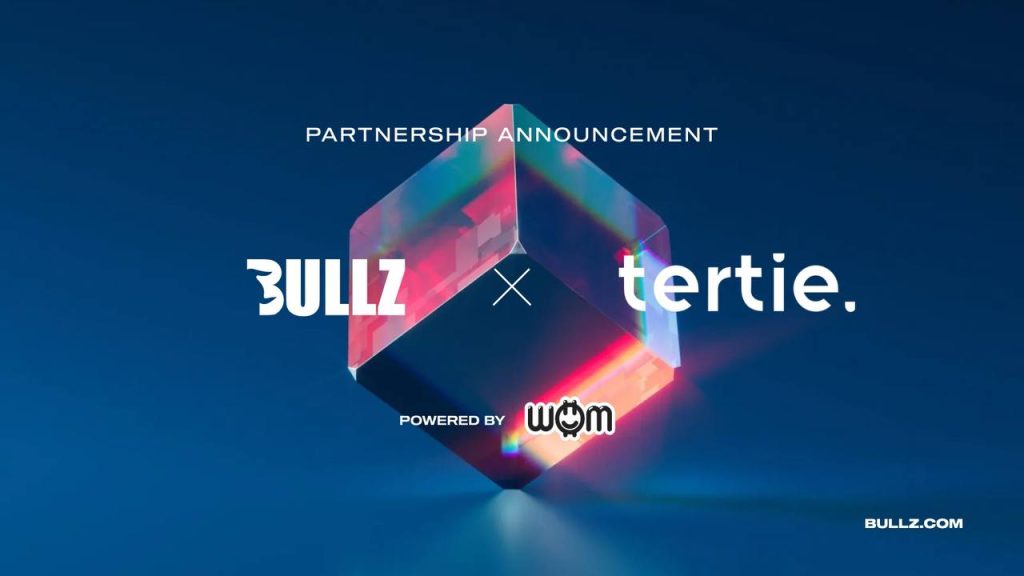 BULLZ, a leading Web3 social platform with a rapidly growing user base of more than 60k+ creators, today announced a partnership with Tertie, a marketing agency specializing in Web3 marketing solutions and tokenization services.
Tertie, whose clients include Minnapad, ZoidPay, Froala, Staking Rewards, Coinflow, EXE Software, ZOIDVERSE, and Invest Stockholm, will further its goal of helping web3 clients stand out and attract investors and early adopters, by connecting them with the entire ecosystem of BULLZ growth marketing products for creating, sourcing and distributing user-generated content (UGC). These include:
The "TikTok of Crypto" BULLZ app, which enables creators to get rewarded for recommendation videos;
The BULLZ Campaign Manager, which gives brands access to UGC from the BULLZ creator network;
BULLZ.io, which activates project community members to get creative and contribute towards marketing campaigns.
In 2023, user-generated content is one of the hottest trends in Web2 marketing (The Drum), with more than 200m people now identifying as creators (Linktree, 2022). As growing numbers of ordinary people find ways to earn income through social media, Web3 platforms such as BULLZ, which empowers creators to get rewarded for recommendation videos about Web3, blockchain, NFTs, DeFi, and DAO projects, are providing content creators with increasingly attractive opportunities to diversify platforms and switch up monetization methods.
Since its launch in late 2021, BULLZ has accumulated more than 96k+ videos. Each video is peer-reviewed on average by more than 400+ authenticators, who act like content nodes to bring trust into the content. The platform's integrated WOM Protocol automatically rewards creators for their content and authenticators for their peer review. Successful campaigns have already been run with brands including Sheesha Finance, Monkey League, Youmeme, Safe ZK, and 8 Finance, just to name a few.
Tertie is a Web3 marketing agency led by a team of experienced marketers, designers, and developers, that provide complete marketing solutions for Web3 companies while helping Web2 companies create and market the utility of their own tokens. Tertie is coming into the market with a shared revenue model, which means that clients can be charged in tokens after listing, so that the fees are tied to the success of the project. The agency offers a variety of services, including:
Tokenization;
Token listing marketing;
Community growth & management;
Ongoing marketing support.
Co-Founder & CEO of Tertie, Elena Oglinda, said: "We help clients make sense of token creation, and we empower them with marketing that cuts through the noisy cryptocurrency market and opens doors to investment. We're thrilled to bring BULLZ and its ecosystem of products into the fold for our clients and incorporate invaluable user-generated content into our bespoke marketing solutions."
Melanie Mohr, CEO & Founder of BULLZ, said: "Web3 projects need marketing agencies and social platforms that are as invested in their success as they are: BULLZ grows through the success of our clients, and so does Tertie. We're excited to partner up with such a like-minded team, to bring more awareness to their impressive ecosystem."
About the WOM Protocol
WOM (word-of-mouth) Protocol is a blockchain-based protocol that gives brands, content creators, publishers, and social networks a way to monetize word-of-mouth recommendations on any website, app, or platform. Seasoned investors back WOM from around the globe. For more info about WOM: https://womprotocol.io
About BULLZ
BULLZ is scaling an entire ecosystem of Web3 MarTech products. These include BULLZ, a dedicated app for creating and discovering authentic blockchain and crypto-related recommendations, the BULLZ Campaign Manager, which gives brands access to UGC from the BULLZ creator network, and Bullz.io, a token and NFT airdropping tool, which activates project community members to get creative and contribute towards marketing campaigns. With the "create to earn" model, users are rewarded with WOM Tokens for creating and rating authentic recommendations directly within the app. For more information: https://bullz.com
About Tertie
Tertie is a marketing agency specializing in Web3 marketing solutions and tokenization services. We work with a diverse range of clients in the cryptocurrency space, helping them stand out and attract investors through effective marketing campaigns and token creation strategies. For more information: https://tertie.co/