BULLZ and Web3Arabs Partner To Propel Web3 Development in Middle East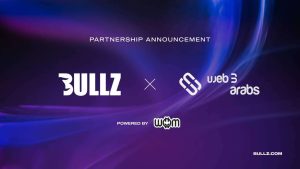 Singapore, BULLZ, a leading Web3 social platform with a rapidly growing user base of more than 60k+ creators, today announced a partnership with Web3Arabs, a free online Web3 educational platform for Arabic speakers with a user base of more than 2,400 students.
The partnership will further Web3Arabs' goal of empowering the Arabic-speaking community with the general knowledge to understand Web3, transition skill sets from Web2, build products, and partner with the international Web3 network. This will be achieved by introducing the Web3Arabs platform, along with its students, to the full suite of BULLZ growth marketing products. These include:
The "TikTok of Crypto" BULLZ app, which enables creators to get rewarded for recommendation videos;
The BULLZ Campaign Manager, which gives projects access to UGC from the BULLZ creator network;
io, which activates project community members to get creative and contribute towards marketing campaigns.
Despite the Middle East & North Africa (MENA) region ranking as one of the smaller crypto markets in the 2022 Global Crypto Adoption Index, it is also the fastest growing. Between July 2021 and June 2022, MENA-based users received $566 billion in cryptocurrency, an increase of 48% compared with the previous year (Chainalysis). For platforms such as Web3Arabs, this poses a significant opportunity to continue closing knowledge gaps in the Middle East around Web3 and blockchain, in order to spread general education and help developers learn to build best practice Dapps and NFT projects that benefit the broader community and widen the scope of Web3 diversity.
Web3arabs' dedication to taking a leading role in the web3 and blockchain edutainment space, is taking a significant step forward by introducing its own educational format on the BULLZ platform. BULLZ, a platform that empowers creators worldwide, offers rewards for recommended videos covering topics such as Web3, blockchain, NFTs, DeFi, and DAO projects. The platform has already attracted over 500 creators from Arabic-speaking countries, and Web3Arab's extensive network of Arabic-speaking creators will play a vital role in reaching and onboarding additional students to the platform.
Since its launch in late 2021, BULLZ has accumulated more than 96k+ videos. Each video is peer-reviewed on average by more than 400+ authenticators, who act like content nodes to bring trust into the content. The platform's integrated WOM Protocol automatically rewards creators for their content and authenticators for their peer review. Successful campaigns have already been run with brands including Sheesha Finance, Monkey League, Ethermail, Youmeme, and SingularityDao, just to name a few.
Web3Arabs was founded by a group of experienced developers and entrepreneurs committed to making Web3 education accessible to everyone, regardless of their background or technical knowledge. The free online platform teaches Arabic speakers about Web3 through a variety of courses, tutorials, and resources on topics, including:
Learn to create project NFTs;
Learn to create smart contracts and Dapps;
Learn the basics of Blockchain;
Learn to create DAO and DeFi projects;
Learn to create NoSQL database as a smart contract use WeaveDB
Khairallah AL-Awady, Founder of Web3Arabs, said: "We're here to help devs and the wider Arabic-speaking community build knowledge and break into Web3, to level up development and adoption in the Middle East. We are happy to connect Arabic-speaking content creators with our new partner, BULLZ's creator marketplace, while utilizing their brilliant marketing tools to spread education to everyone, while reaching and upskilling even more devs through the power of user-generated content.
Melanie Mohr, CEO & Founder of BULLZ, said: "I'm absolutely bullish on MENA and I see a great opportunity here for Web3Arabs to bring Arabic-speaking creators on board, while continuing to spread education and grow skill sets and development here. The Middle East & North Africa are becoming increasingly more vibrant with Web3 activity and leaning into crypto, and I'm looking forward to rallying Arabic content creators to continue spreading the word in the region."
About the WOM Protocol
WOM (word-of-mouth) Protocol is a blockchain-based protocol that gives brands, content creators, publishers, and social networks a way to monetize word-of-mouth recommendations on any website, app, or platform. Seasoned investors back WOM from around the globe. For more information about WOM: https://womprotocol.io
About BULLZ
BULLZ is scaling an entire ecosystem of Web3 MarTech products. These include BULLZ, a dedicated app for creating and discovering authentic blockchain and crypto-related recommendations, the BULLZ Campaign Manager, which gives brands access to UGC from the BULLZ creator network, and Bullz.io, a token and NFT airdropping tool, which activates project community members to get creative and contribute towards marketing campaigns. With the "create to earn" model, users are rewarded with WOM Tokens for creating and rating authentic recommendations directly within the app. For more information about BULLZ: https://bullz.com
About Web3Arabs
Web3Arabs is a free online platform that teaches Arabic speakers about Web3, the next generation of the internet. The platform offers a variety of courses, tutorials, and resources on topics such as blockchain, smart contracts, NFTs, and DeFi. Web3Arabs is committed to making Web3 education accessible to everyone, regardless of their background or technical knowledge. The platform was founded by a group of experienced developers and entrepreneurs who are passionate about Web3 and its potential to empower people around the world. Web3Arabs is already helping thousands of Arabic speakers learn about Web3 and build their skills. The platform is growing rapidly and is on track to reach millions of users in the coming years. For more information about Web3Arabs: https://www.web3arabs.com/