MyNFTScore: The Game-Changing Play-to-Earn Experience that Puts Players on the Path to Wealth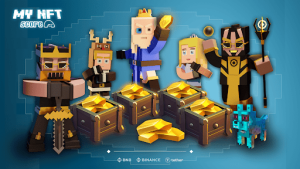 Tallinn, Estland, 13th June 2023, ZEX PR WIRE, MyNFTScore, the revolutionary play-to-earn game, is taking the gaming and cryptocurrency world by storm. Developed by a highly acclaimed game studio with a stellar track record of creating immersive gaming experiences for international clients over the past 5 years, MyNFTScore is set to redefine the way players earn money while having fun.
In the era of NFTs and the metaverse, where virtual assets hold real-world value and digital experiences transcend boundaries, MyNFTScore offers an unparalleled opportunity for players to capitalize on this emerging trend. But what exactly are NFTs and the metaverse? NFTs, or non-fungible tokens, are unique digital assets that can represent ownership of various items, such as virtual real estate, artwork, or in-game items. The metaverse, on the other hand, is a virtual universe where users can interact, create, and transact with these NFTs.
Jumping into the world of NFTs and the metaverse is an exciting opportunity for everyone. The potential for financial growth and digital ownership is unprecedented. MyNFTScore stands out from the crowd as it combines the thrill of gaming with the earning potential of the crypto world. It offers a unique play-to-earn experience where players can generate real income simply by playing the game.
What sets MyNFTScore apart from other products on the market is its innovative approach to community building and wealth distribution. With MyNFTScore, there are no losers – only winners. The game has been meticulously designed to ensure that every player has the chance to earn and thrive. Through the four carefully crafted phases of MyNFTScore launch, players can participate in a variety of income streams, including staking, direct referral bonuses, daily pairing bonuses, top gamers pool rewards, king FOMO pool bonuses, and happy hour bonuses.
"As a game studio with a rich history in creating immersive gaming experiences, we saw the potential of combining the play-to-earn concept with the booming NFT and metaverse trends," said Alexandra Elvira, Media Spokes person of MyNFTScore. "Our goal with MyNFTScore is to empower players to not only enjoy an exciting gaming experience but also to unlock the earning potential of the metaverse. We believe that everyone should have the opportunity to earn money while having fun, and MyNFTScore makes that a reality.
To experience the game-changing potential of MyNFTScore, visit our website at https://www.mynftscore.io. Join the MyNFTScore community, embrace the future of gaming and finance, and start your journey to wealth today.
About MyNFTScore
MyNFTScore is a groundbreaking play-to-earn game developed by a renowned game studio with over 5 years of experience in creating immersive gaming experiences for international clients. By combining the thrilling world of gaming with the lucrative opportunities of NFTs and the metaverse, MyNFTScore revolutionizes the way players earn money while having fun. With an innovative approach to community building and multiple income streams, MyNFTScore ensures that every player has the chance to succeed and thrive in the metaverse
Twitter: https://twitter.com/mynftscore 
Telegram: https://t.me/mynftscoreofficial 
Instagram: https://www.instagram.com/mynftscore 
For additional information and business inquiries, please contact: https://www.mynftscore.io/