BULLZ, the Socialfi Platform for Web3 Creators, Partners with Market Making Pro to Unleash the Power of the Creator Economy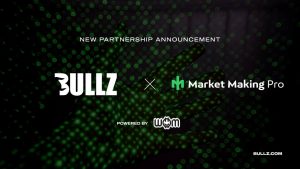 BULLZ, the leading SocialFi platform for content creators in web3, is proud to announce its strategic partnership with Market Making Pro, a cutting-edge trading platform leveraging advanced technology and data analysis to optimize market liquidity provision. This collaboration brings forth a multitude of benefits for both BULLZ creators and Market Making Pro clients, forging new pathways in the creator economy while enhancing web3 marketing strategies.
The partnership with Market Making Pro creates opportunities for BULLZ creators and Market Making Pro clients across various web3 verticals.  Market Making Pro has demonstrated a consistent track record of trust and reliability since 2017, catering to over 570 clients. With their robust industry presence, extensive experience, and a vast network of upcoming web3 projects, Market Making Pro is an ideal candidate to join the BULLZ community partnership.
BULLZ serves as a vibrant and engaging platform, often referred to as the "TikTok for crypto," where content creators share video recommendations of their favorite blockchain, NFTs, Metaverse, AI, and GameFi projects while earning rewards through the integrated WOM Protocol. The WOM Protocol, a web3 marketing solution, initially launched the BULLZ app as a test-bed, which rapidly gained adoption in the creator space, attracting over 60k+ creators and facilitating the generation of more than 96k+ videos. Through a peer review system, content undergoes quality evaluation, enabling creators to earn based on ratings and content engagement. BULLZ, as the interface, leverages user-generated content instead of intrusive ads, providing a seamless monetization approach. Brands and advertisers contribute to the system by utilizing this user-generated-content instead of ads, bypassing traditional, less engaging forms of advertising.
Moreover, the BULLZ app has expanded monetization opportunities by introducing direct content campaigns. Brands can launch campaigns through the BULLZ Campaign Manager, enabling them to source content directly from creators. This feature provides web3 projects with an interactive and engaging medium for communication through video content and amplifies their brand awareness through wider distribution. Various brands have already leveraged BULLZ for educational and onboarding campaigns.
The partnership with BULLZ allows Market Making Pro clients to access a diverse group of talented creators, offering fresh perspectives and unique marketing content. The exposure to multiple creators and a scalable content system provides brands with an efficient solution for creator-driven marketing.
Mikhail Filippov, Co-Founder of Market Making Pro, explains: "We are excited to partner with BULLZ and WOM as it unlocks a multitude of opportunities for our clients to drive adoption through the power of creator-driven marketing. This space truly needs more engaging content that not only educates but also facilitates user onboarding by explaining new innovations in a user-friendly way."
Melanie Mohr, Founder & CEO of BULLZ, shares: "We are thrilled to join forces with Market Making Pro, leveraging their exceptional network and extensive industry knowledge. Our shared vision of supporting projects with user adoption makes this partnership a great fit. We will facilitate more campaigns for our rapidly expanding creator network, opening doors to exciting opportunities and further growth."
About Market Making Pro
With a track record of trust and success since 2017, Market Making Pro has earned the confidence of over 570 clients, surpassing a total market cap of $3.5 billion. Leveraging its state-of-the-art liquidity and proprietary software, the platform generates organic trading volumes, effectively controlling volatility, and maintaining low spreads for clients' tokens, allowing them to navigate dynamic market conditions with unwavering confidence. For more information about Market Making Pro: https://marketmaking.pro/
About the WOM Protocol
WOM (word-of-mouth) Protocol is a blockchain-based protocol that gives brands, content creators, publishers, and social networks a way to monetize word-of-mouth recommendations on any website, app, or platform. WOM is backed by dozens of investors from around the globe. For more info about WOM: https://womprotocol.io
About BULLZ
BULLZ is a dedicated platform for discovering authentic blockchain and crypto-related recommendations. Users can find trending projects, discuss them together with other crypto enthusiasts and experts and can get rewarded for sharing their own videos about the projects and companies they love. With the "create to earn" model, users are rewarded with WOM Tokens for their recommendations directly within the app. For more information about BULLZ: https://bullz.com