Simplio App Launches to Revolutionize One-Click Web3 Mobile Gaming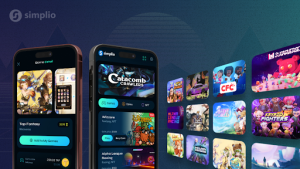 Prague, Czech Republic, 18th July 2023, ZEX PR WIRE, Simplio, a pioneering mobile Web3 gaming platform introducing a first-of-its-kind one-click gaming mechanism, officially announces its entrance into the web3 gaming market today. The platform is designed to make it straightforward for anyone to engage with games, accumulate and control their in-game digital assets such as tokens and NFTs. Simplio already has over 40 partnerships and plans to add another 100 quality games to its platform. 
Simplio eases the journey for gamers transitioning from Web2, enabling them to fully immerse in the rich experiences offered by Web3 gaming. It also introduces a variety of unique features that enhance digital ownership while offering an intuitive, user-centric gaming experience. Some of its key features include:
One-click-gaming:

Simplio is among the first apps to enable a one-click-gaming mechanism, providing an instant, seamless gameplay experience. 

Unified registration:

Simplio streamlines the process with a single registration, one avatar, and one seed for all games, making it friendly for gamers of all levels. 

Self-custodial wallet and seamless transactions:

Simplio simplifies gaming asset management with automatic creation of a self-custodial wallet, effortless any-to-any game token swaps, and one-click purchases of any desired game token via debit card. Secure and quick purchases are made easy with your debit card now, and future provisions include an easy off-ramp solution via a virtual IBAN.

NFT management for all games:

Simplio's system is designed for fairness and transparency, enabling players to purchase and, in the future, trade all game-related NFTs in the in-app marketplace. 

A diverse array of games:

Simplio offers a wide spectrum of games, including both classic and emerging titles. With an initial launch of over 40 Web3 games, including Catacomb Crawlers, Wizarre, and Sugarverse, Simplio aims to onboard an additional 100 games. 

Transparent gaming environment:

Simplio provides a clean and unique gaming environment free of hidden fees and advertisements, focused entirely on gameplay.
"We're excited to launch Simplio and bring the innovative world of Web3 gaming to everyone," said Jakub Korbel, CEO of Simplio. "We envision Simplio as a significant player in the new era of blockchain gaming, committed to offering the most comprehensive platform for gamers of all skill levels."
Currently in beta, Simplio offers an exclusive opportunity for early adopters to become Simplio Advocates. This allows them to experience and use the app before its public release. Besides early access to games and receiving alpha information before the general public, Simplio Advocates will receive unique benefits, such as: 
A special badge on their profile 

Early access to new features and updates 

The opportunity to participate in exclusive events and AMAs 

Special rewards for the most active users before the IDO
To learn more about Simplio or to sign up for the beta, please visit www.simplio.io 
Twitter: https://twitter.com/simplioofficial
Medium: https://simplio.medium.com/ 
Telegram: https://t.me/simplioofficial