Pink Moon Studios Ignites Web3 Gaming Future with Groundbreaking KMON Trading Card Game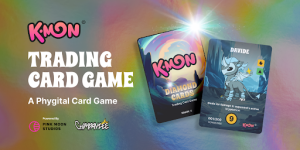 Singapore, 19th July 2023, ZEX PR WIRE, Pink Moon Studios, a cutting-edge architect of the Web3 gaming landscape, is set to thrill enthusiasts with an announcement that beautifully meshes nostalgia with innovation: the launch of the KMON Trading Card Game. This groundbreaking endeavor elevates the enchantment of beloved classics like Pokémon and Yugioh into the Web3 realm, effectively combining traditional gaming experiences with the transformative potentials of blockchain technology.
CEO of Pink Moon Studios, Umberto Canessa Cerchi, encapsulates the team's enthusiasm in a recent statement: "The launch of the KMON Trading Card Game marks a monumental leap for our brand. This project represents a harmonious fusion of our cherished childhood memories with the exciting advancements of blockchain technology." Echoing this sentiment, Davide Matteazzi, the Head of Merch at Pink Moon Studios and the originator of the project, affirms, "The introduction of a trading card game provides a unique avenue to amplify the bond between our players and their Kryptomons, deepening their engagement in the world we've meticulously crafted. Together with our italian publishing partner, Chimpanzee, we managed to design an experience which brings forth an excitingly new approach to the game mechanics proper of the franchise.
A Community-Centered Approach
One of the game's standout features is its emphasis on community involvement. Rather than limiting the selection of featured Kryptomons to an internal committee, Pink Moon Studios is democratizing the process through the innovative KMON Beauty Contest.
This contest empowers community members to propose their Kryptomons for inclusion in the card game. To participate, members are encouraged to share their Kryptomon entries on Twitter, tagging @KryptomonTeam and using the hashtags #KMONCardGame and #KMON. The engagement garnered by each entry will determine the top 56 Kryptomons, seven from each element, that will adorn the inaugural test run of the KMON Game Cards. This innovative approach reaffirms Pink Moon Studios' commitment to community involvement, promoting a sense of ownership among players and fostering a more interactive gaming environment.
Enhancing Gameplay: The Roadmap for the Future
As Pink Moon Studios continues developing the KMON Trading Card Game, they explore many game-enhancing mechanics. One of these exciting prospects is the introduction of legendary cards that can be traded for an NFT or in-game items, offering players an enthralling dimension of strategy and reward.
Simultaneously, Pink Moon Studios is diligently working on creating a sustainable and equitable revenue-sharing model. This model aims to reward the community, ensuring the fair distribution of benefits derived from the card game. Pink Moon Studios is dedicated to upholding the principles of fairness and inclusivity, continually seeking ways to create a more enriching and equitable gaming ecosystem.
Leading the Web3 Gaming Revolution
Originally founded as Kryptomon in 2021, Pink Moon Studios has quickly emerged as a vanguard in the Web3 gaming space. By effectively harnessing blockchain technology, non-fungible tokens (NFTs), and augmented reality (AR), they are shaping the gaming industry's future. Pink Moon Studios' advanced service offerings, including the Diamond Contract, NFT Forging, Phygital NFTs, and the AR NFT Hunt, serve as a testament to their unwavering commitment to pioneering immersive, engaging, and innovative gaming experiences that transcend the constraints of traditional gaming.
As a steadfast innovator, Pink Moon Studios consistently invests in exploring and integrating emerging technologies to elevate its offerings. This approach, coupled with their commitment to fostering strong community relations, has solidified Pink Moon Studios' position as trailblazers in the industry.
For additional information and business inquiries, please contact: https://pink-moon.studio/