CoinUp – An Intelligent Journey to Cognitive Trading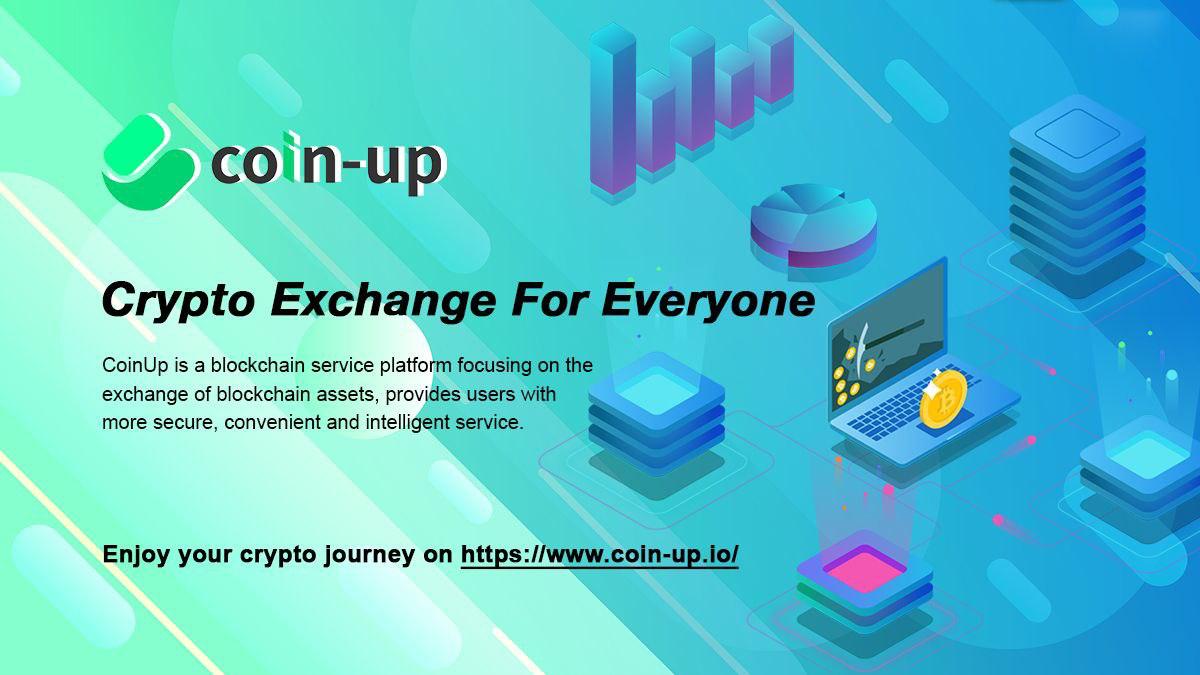 New York City, 6 Nov 2021, ZEXPRWIRE, The world has been blown away with blockchain technology, bringing dynamic solutions for industries at a worldwide scale. There have been many technical limitations that have kept blockchain technology to an all-out adoption with its inception. Since blockchain technology has initiated from cryptocurrency, the domain feels responsible for bringing effective solutions scaled across all industries.
Cryptocurrency exchanges are an important section of the structure put forth by the crypto world. While offering decentralization, different entities are responsible for providing comprehensive use cases for effective crypto trading. Within the division of cryptocurrency exchanges, the need for a secure, convenient, and intelligent service is quite necessary.
This is where CoinUp turns all issues upside down, providing the crypto community with a blockchain service platform that is believed to change a user's crypto trading journey.
Introduction About CoinUp
CoinUp has introduced itself in the crypto world as a blockchain service platform featuring services of crypto-chain, mining cryptocurrency, and offering a unique trading experience to the users in the crypto space. Headquartered in The Cayman Islands, CoinUp has set up its operation centers across Switzerland, Canada, Singapore, Hong Kong, and Australia.
A crypto exchange designed for everyone, CoinUp offers a very impressive set of tools that helps you make profitable trades, regardless of your experience level in crypto trading. One of the integral objectives of CoinUp is to bring smooth trading for its users. With completed access to more than 200 public blockchains, CoinUp has strategically set up a market liquidity cooperation with major financial institutions: converging towards developing a high concurrency matchmaking engine system.
How is CoinUp Benefiting the Industry and Community
The market appraisal involved with the inclusion of CoinUp in the crypto world is a definite explanation of how the platform keeps a compatible trading philosophy aligned with a secure trading environment for worldwide users. Multiple objectives are involved in the long-term plan for CoinUp, which are featured as follows:
       

Empowering Investors:

CoinUp provides advanced and beginner traders a chance to chart their financial course. With a growing number of cryptocurrency pairs across the exchange, investors can build their portfolios with effective tools and features.

       

Supporting Institutions:

One effective feature of CoinUp is its availability to all kinds of institutions. While carrying out procedures such as OTC trading and personalized white-glove account management, the competitive liquidity and pricing in the market make CoinUp the future of crypto exchanges.

       

Global Brokers Service Plan:

The project plans to recruit 1000 brokers across the world for customer servicing. CoinUp has taken the traditional financing model and combined it with the crypto environment to improve the services provided across the digital market.
Free Token Listing
The collaboration among exchanges and projects has been a major lacking in the market dynamics. CoinUp has brought up the concept of providing free-listing events under the support of potential projects. To help projects prosper and grow, CoinUp believes in building a stronger crypto community loaded with trust. The rules of becoming part of the free-listing process are simple, which involves:
–          Select the free listing projects and provide them with three market-making accounts without trading fees.
–          CoinUp helps projects arrange an airdrop for free, where the platform is only required to pool the funds into the exchange.
How Does CoinUp Deal with Free Listing
After successful listing across CoinUp, the platform shall start developing statistics across the trading volume from the second month of listing. This audit concludes that projects with volumes less than 500ETH per month will be removed from the exchange. This excludes the market-making accounts; however, the exchange has no contention with the projects over increasing their liquidity.
Criteria of Becoming a Part of CoinUp's Free Listing Projects
There are a few essential requirements of becoming part of the free listing projects in CoinUp. Although the team is quite proactive in allowing all kinds of projects to be listed for free across the exchange, it looks across the set of information that is provided as follows:
–          Team Introduction, Name, ERC20 token contract address, or Blockchain browser for non-ERC20 projects.
–          WeChat contact, Contract Security Reports, CoinMarketCap, or Non-Small Number Link.
–          Plan Time and other associated information.
After receiving these information requirements through an application in detail, the team shall look into it and contact the project owners accordingly.
Industrial Tech Directions that CoinUp Looks Into
Blockchain technology, cryptocurrency, and the crypto world have taken a very diverse stand across the market with their multiple use cases. There is not a single industry that is benefitting from the system. However, under such a diverse environment, CoinUp believes in taking an appropriate direction of targeting significant industries for effective results.
However, before taking conclusive steps in the project, CoinUp believes in setting up an eye across the future and potential of the cryptocurrency market. GameFi and NFTs have been one impressive adoption of the cryptocurrency market that is quite attractive for CoinUp. The progress that is part of the NFT projects is very impressive, out of the question. Projects such as Axie Infinity, Decentraland, and CryptoPunks explain it all.
NFTs have changed the incentives of the makers across a business's capacity. This has been widely adopted by conventional computer games, which has eventually shifted into newer technology known as GameFi.
CoinUp, while eyeing across these potential departments in the crypto space, is also keen on the launch of Meta. With a major rebranding of the social media giant, Facebook, the metaverse surely has some effective potential that is yet to be seen. While struggling with setting up plans for the metaverse, Facebook is also looking towards launching Diem, its dedicated cryptocurrency. This provides an all-out objective for CoinUp to work on, giving a worthwhile industrial direction.
What Does CoinUp Set Up for the Future
The objectives of CoinUp are quite simple and significant, where it believes in setting up a secure and efficient cryptocurrency exchange worldwide. While providing individuals with cognitive solutions, the platform surely welcomes industrial projects into its compliance-friendly space. CoinUp intends to set up a world-class security system with the inclusion of top-rated traditional financing systems. With both systems, CoinUp is quite clear over its mission of "secure, convenient, and intelligent service.'
Media Contact:
Website: https://www.coin-up.io
Twitter: https://twitter.com/CoinUpOfficials
Telegram: https://t.me/coinupofficial
Email: [email protected]