London, Oct 12, 2020, ZEXPRWIRE, The modern world has become more digitized than ever. And online services that we have come to use on a daily basis, farm huge amounts of our personal data. Today, we are unable to control the data we create, instead, these online services see data as their own.
With time, users have had less insight and control over their data. Recent events have helped to highlight the dangers of the current data model. For instance, the Cambridge Analytica incident showed that user data was open to misuse. It highlighted how user data was used to influence voters during the 2016 U.S. election.
The incident raised numerous concerns about commercial, technical, political, and ethical aspects of personal data collected and analyzed by those who buy data from platforms such as Facebook. A recent study by the SAS Institute Inc in the US found that 73% of participants in the survey were more concerned about their data than they were a few years back. The study found that 83% of participants would like more control over their data, clearly hinting that users would like organizations to not sell or share their data.
More recently, highlighted by the immensely popular Netflix documentary "A Social Dilemma," the world is waking up to the alarming concentration of political, fiscal and societal power Big Tech has. "A Social Dilemma" paints a picture that we are addicted to our mobile devices, and are utterly powerless when it comes to controlling our data, which they profit exorbitantly from.
The PRIVI Protocol Data Privacy Solution
The PRIVI Protocol decisively deals with the lack of transparency and bad practices when it comes to user data generated on online platforms. The PRIVI ecosystem comes with a suite of data control features that gives users an instrument to fully control their data. It will ensure complete transparency when it comes to storage, usage, and aims to guarantee its security and privacy.
These data features are based on the principles of new data protection laws passed around the world. The GDPR, for example, a primary scope. It is a protocol built for the new digital era, which addresses user concerns about their data.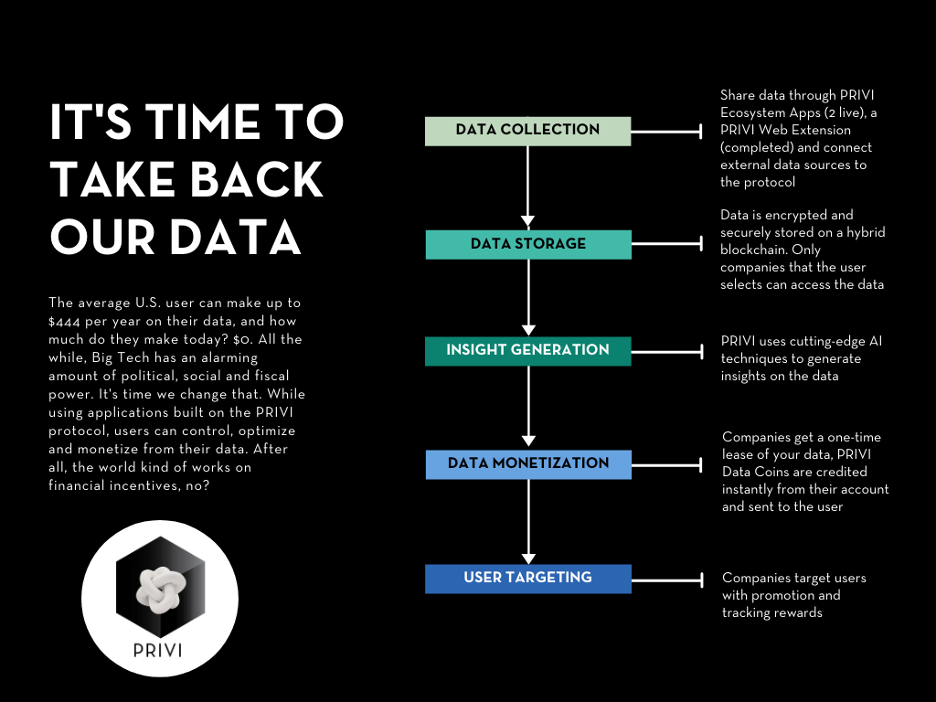 Applications built alongside PRIVI will integrate these data control features into their Privacy Settings. Ensuring users that a full list of providers, companies, and advertisers participating in the PRIVI ecosystem will be available for the users to disable or enable sharing. If they wish that a certain company, or industry, doesn't have access to their data – they can do so.
A user can then decide which companies they wish to potentially earn from. For instance, they can decide that they do not want their data being bought by an election campaign firm. Combined with the potential to gain from the sale of their data, it aims to be a feature that will be welcomed with open arms by the masses.
Research shows that users spend an average of 6 hours and 42 minutes online each day. Half of that time is spent on mobile devices. That figure is about 100 days spent online annually. Over a lifetime, that is around 15.6 years spent online.
The PRIVI protocol aims to ensure that users can optimize their time online and derive benefits from it. It would ensure that users' time online does not just go to enriching mega- rich corporations. As highlighted in the "The Social Dilemman," in order to change things, we need to re-align the financial incentives. PRIVI aims to promote a solution that means users, not the firms, profit from data.
To learn more, visit Priviprotocol to see how you can control your data and potentially earn from it.