Derby Stars enters a new era of horse racing video games with its release of
Seoul, South Korea, 27th February 2023, ZEXPRWIRE, Derby Stars, a horse-racing metaverse game on Polygon blockchain, has opened its "Early Access" version from February 27th to March 20th. Created by a team of talented game developers, Derby Stars promises to be a fascinating new development in the field of online horse racing. Players can train and race their own horses, breed new horses, and partake in exhilarating Player versus Environment (PvE) and Player versus Player (PvP) competitions in the game's picturesque grasslands and several racetracks.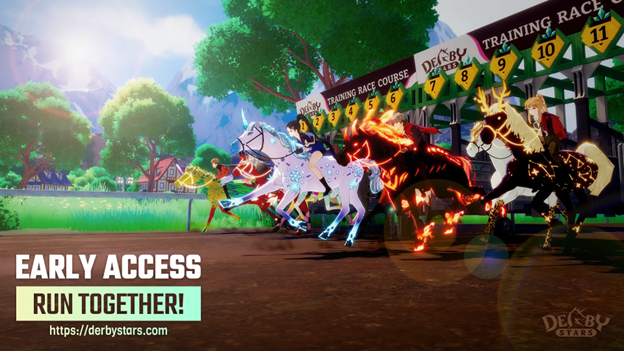 Derby Stars was created in collaboration with its players, and the company hopes to receive as much feedback as possible through "Early Access," according to Executive Producer Sean Hahm. "We are convinced that the Early Access version is a terrific representation of what's to come. We have worked diligently to build a game that genuinely embodies the excitement and thrill of horse racing."
By fusing the thrill of live horse racing with cutting-edge technology and blockchain integration, the game offers an unmatched gaming experience. According to Sean, "Derby Stars is at the vanguard of revolutionizing blockchain game development as well as the digital horse racing industry."
During the early access period, players can take advantage of an array of quests and events as well as in-game material. By performing certain assignments, players can level up their horses and gain in-game tokens. They can also compete against other Derby Stars players for the chance to earn a larger prize and be crowned the champion.
Later this year, Derby Stars will release an Alpha version after incorporating the feedback received as a part of the Early Access edition. Players can anticipate more features, including the ability to customize their avatars, a simulation of stable administration, support for mobile (AOS), a rental market, and others.
Anyone holding a Derby Stars Horse NFT can play the "Early Access" edition, which is accessible on PC and Mac. To make the game more accessible to a wider audience, this version supports Chinese (traditional and simplified), Japanese, and English.
About Derby Stars
Derby Stars is a trailblazing horse-racing metaverse game that enables players to breed, train, and trade digital horses while earning cryptocurrency. The project is led by Sean Hahm, who has prior experience creating a popular mobile horse racing game. The team is made up of around 30 people from different nations, including Korea, the United States, and Canada. The company secured a $6 million initial investment from Patron and Galaxy Interactive, as well as early follow-on funding from Hashed and a number of other investors.
The NFT market for the gaming sector is anticipated to reach $291.7 billion by 2028, and Derby Stars is expected to help change the gaming sector. With its unique blend of technology and horse racing, Derby Stars is set to become a must-play game for anyone interested in the world of horse racing.
Socials:
Twitter: https://twitter.com/DerbyStars_HQ
Medium: https://medium.com/@DerbyStars
Whitepaper: https://whitepaper.derbystars.com/