Makati City, Philippines, 22nd June 2022, ZEXPRWIRE, A Creative Hub is a community or place, that may be physical or virtual, which brings together creative people. Creative Hubs range from large-scale organisations which have been operating for decades, involving numerous people and occupying large buildings, to emerging hubs operating in various cities outside the capital. SeaGate and Phố Bên Đồi (City on Hills) are two examples of emerging Creative Hubs in Viet Nam.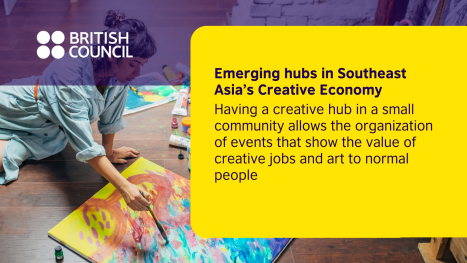 Driven by her passion for literature, Vũ Thị Thanh Bình opened a small book cafe in Hà Nội in 2015. However, in 2021, she went back to her hometown and opened the first Creative Hub in Hải Phòng. Even though SeaGate has only been operating for 6 months, they have offered a wide array of cultural activities for their community such as painting workshops, events with handicraft makers, and a cinema club.
Bình believes that even in small cities, people are in need of more cultural activities because life there could be boring. Young people usually leave their hometown to go to more interesting places or when they leave the small provinces to study in the big cities they do not wish to come back.
Having a Creative Hub in a small community allows the organisation of events that shows the value of creative jobs and art to normal people and enables them to have
the opportunity to see how artists and people who work in the art field are able to create a livelihood while experiencing the joys of art events.
Phố Bên Đồi was opened by Nguyễn Trung Hiền in Đà Lạt City in 2016, with the goal of transforming Đà Lạt into a unique cultural destination of Southeast Asia. They offer activities and programmes that promote tourism, cultural activities, educational instruction and offer solution to the local government and local enterprise
With the help of having a Creative Hub in Đà Lạt, Hiền believes that they are able to provide a space for people in their non-capital city to be able to hone and expand their craft. They are also able to inspire young people who are in the creative industry to come back to their hometown rather than to see the need to seek opportunities in the capital.
To improve the creative economy, much support and encouragement should be given to emerging Hubs, with Hub-leaders provided opportunities to expand their skills and networks so that they are able to continue to grow economic opportunities in their communities.
Creative Hubs were supported by the British Council's 'Creative Hubs for Good' programme. Running from 2018 to 2022 in Southeast Asia, the Creative Hubs were key drivers and catalysts for good in Indonesia, Malaysia, the Philippines, Viet Nam, and Thailand.
Learn more about the Creative Hubs for Good programme here:
https://creativeconomy.britishcouncil.org/projects/hubs-good-progr-sea/
Media Contacts
Name – RDB Agency
E-mail – [email protected]
Phone no – n/a
Company – RDB Agency
Address – Makati City, Philippines