Homegrown Creator's Company, Kobe Global Technologies, unveils its inaugural content creators' event: The Influence Marketing Conference 2023 I.CON 2023
Singapore, February 21, 2023, ZEXPRWIRE, Singapore-based content creator's company, Kobe Global Technologies, announces the launch of the first of its kind here in Singapore, the Influence Marketing Conference 2023 (I.CON 2023).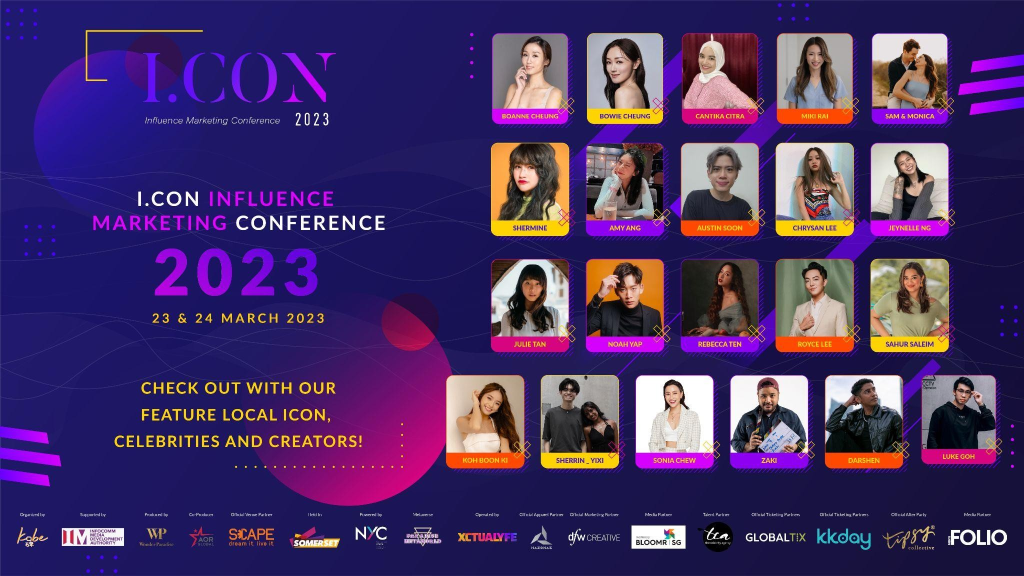 Kobe Global Technologies is hosting I.CON 2023, a major gathering for international leaders, industry specialists, and tech and marketing professionals in the thriving tech industry of Singapore. With an expected attendance of 500 people per day, the conference provides a platform for attendees to share ideas, envision the future, and develop the next generation of tech leaders. Kobe Global Technologies is recognized for its successful application of influencer marketing and AI-driven strategies for businesses and brands in Singapore. Tickets for the event are available now and can be purchased at [Get your ticket!]. The conference is supported by the Infocomm Media Development Authority (IMDA) and organized by Wonder Paradise and AOR Global. The event is held in Somerset Belt, venue at *SCAPE The Ground Theatre, The TreeTop & Gallery, and powered by the National Youth Council.
"I.CON 2023 provides a dynamic platform for globally renowned creators such as Miki Rai, Cantika Citra, Bowie & Boanne Cheung, Sam & Monica to join forces with local Singaporean talents such as Royce Lee, Julie Tan, Noah Yap, Yixin, Zaki, Darshen, and many more to share their expertise and knowledge." Sonia Chew and Jasper Lai, two local special ICONs, will make an appearance. This exclusive two-day event is open to all creators, professional and aspiring alike.
Speaking on the curation of the event, Evangaline Leong, Founder of Kobe Global Technologies, has this to say:
"Facts tell, stories sell. Today, influence with authenticity is key. Discovering relevant creators, co-creating engaging content, reaching right audiences. This is the gist of I.CON 2023, where marketing experts, publishers, platforms and creators come together, share their knowledge and secrets in this fast changing world.

The end goal?
Be Seen, Be Heard, And Be The Influence."
The Influence Marketing Conference is now available on all major social media sites. You can find them on Twitter, Facebook, Instagram, and Discord.
Influencer Marketing Conference 2023 Collaterals:
High-resolution collaterals, press shots, and media previews of I.CON 2023 can be found here.
ICON2023 Website: www.Influencemarcon.com For ticketing link : Ticketing
High-resolution Global Creators Asset: Photos of Global Creators High-resolution Local Creators Asset: Photos of Local Creators Banners Asset: Click here!
For More information:
Organizer Link: https://www.getkobe.com/
Producer Link: www.wonderparadise.com
Co producer link: https://aor-global.com/
About Kobe Global Technologies:
Kobe is an influencer specialist in the We Are Social Network. They are the first and only company that delivers consumer-first influencer marketing campaigns. Enabled by patented AI technology to deliver influence for more than 500 brands, such as McDonald's and Coca-Cola, they offer instant access to 100 million eyeballs with 20,000 content creators across Southeast Asia. Besides achieving the Gold Award for Influencer Agency in the years 2020, 2021, and 2023, they are also the official Meta Business Partner and Tiktok Partner.
About DFW Creative Pte Ltd [Official PR & Marketing partner to I.CON 2023]
DFW Creative is an omni-channel marketing agency in Southeast Asia, offering PR, social media, marketing, events, and virtual events services. Our mission is to help businesses connect with their audience through effective strategies, while keeping up with industry trends. Our team of experts is dedicated to delivering effective results, staying on top of industry trends, and using the latest technologies to enhance the customer experience. DFW Creative Pte Ltd is your one-stop solution for all your marketing needs in Southeast Asia.
www.dfw.com.sg
Media Enquiries:
DFW Creative Pte. Ltd
Telephone: +65 85458737
Email: [email protected]