Kulfi Finance Opens KLS Token Pre Seed Sale, Crypto Analysts Predicts a 10X value on Public sale
London, UK, 22nd September 2022, ZEXPRWIRE, Kulfi Finance, the DEFi gateway to build a stable portfolio for crypto investors.
Fixed Rate protocol Kulfi finance will spearhead Cardano's new era (Basho). Kulfi finance has launched Kulfi token Pre Seed Sale on Kulfi Token Sale Page leading its entry into the next major milestone, advanced decentralized finances (DeFi). Anyone can participate in Kulfi Finance Pre Seed Sale at a discount price of 200 KLS for 1 ADA.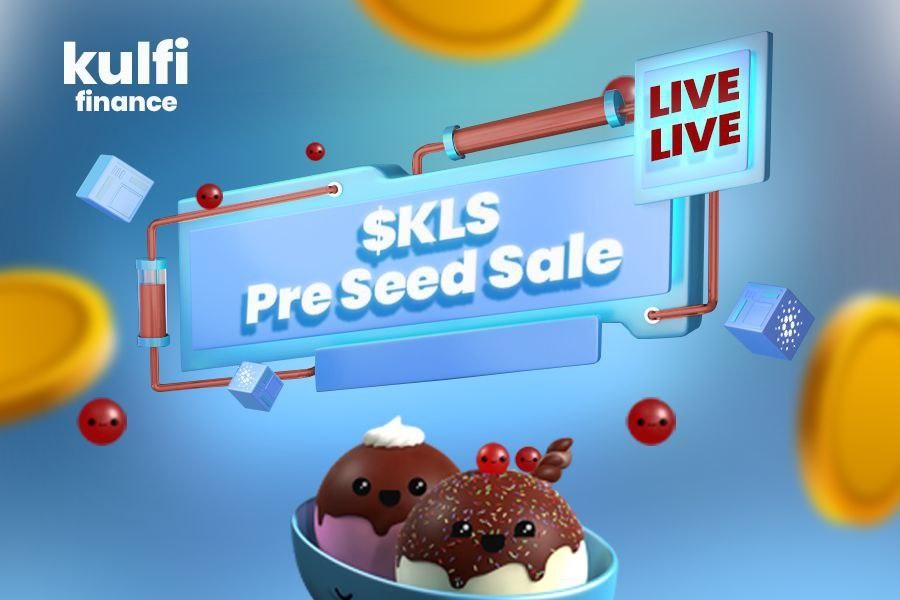 Kulfi finance DAO / Governance
Kulfi finance activities are to be piloted by a team that involves community members. The treasury committee, team and representatives of the community run the ecosystem.
As Kulfi ecosystem continues to grows, important decisions will be performed by the DAO democratically. Votes get counted per voter's activity level, date of adoption and their portfolio's value.
How do KLS Tokens get their value?
The value of a KLS Token will be 50KLS tokens for 1 ADA upon public sale and exchange listing. We believe that this value will appreciate in a relatively short period of time due to our partners' offers quality and to the marketing model chosen by us.
By purchasing KLS Tokens on Pre-seed sale round, the contributor gets the following:
* KLS Tokens at a price that is way lower than the potential market price after the token sale and listings.
* Early access to the Kulfi App for beta tests
* Access to Kulfi NFT pre sale
* The opportunity to participate in Kulfi protocol Voting and Governance
* The app has the potential to grow a large audience over a short period of time, and that will stimulate token value.
As cryptocurrency assets continue to be developed, investors are looking for undervalued assets with the potential to surge in value in the long run. Kulfi finance (KLS), a fixed rate protocol on the cardano blockchain. With the digital asset currently on a roll, $KLS token may be the most valuable Pre seed round in the crypto market.
Why did Kulfi chose Cardano blockchain
Brian Jackson, Product manager of Kulfi finance, said the following on why Kulfi decided to build on Cardano:
"We chose Cardano for their Ouroboros consensus mechanism and Plutus Platform smart contracts, which are essential in unlocking access to banking and other financial or insurance services such as micro-loans".
In addition, the executive claimed that Kulfi will provide users a solution with the potential for scale on a global level while maintaining the security of the blockchain.
Participate in KLS Token Pre Seed Sale
Kulfi Token is currently on Pre Seed Round for early buyers, This is the first and limited opportunity for the public to gain exclusive early access to purchase Kulfi token at 1 ADA for 200 KLS token.
Join the Kulfi (KLS) token pre seed sale at discount price- https://kulfifinance.io/buy
About Kulfi Finance
Kulfi.finance is an innovative crypto solution that combines all the benefits of CeFi and DeFi lending services in one system. This bridge between CeFi and DeFi user bases will greatly simplify user exposure to DeFi products, making the process easy, reliable, and fool-proof. At the heart of Kulfi finance is a financial primitive (wTokens) which facilitates fixed rate & term between lenders and borrowers.
Learn More on Kulfi Finance:
Join KLS Pre Seed: https://kulfifinance.io/buy
Website: https://kulfifinance.io
Twitter: https://twitter.com/kulfi_finance
Telegram Community : https://t.me/kulfifinance
Discord Community: https://discord.gg/fzsa8ynF97
Whitepaper: https://kulfi.gitbook.io/kulfi-finance-3/
Blog: https://medium.com/@Kulfi_finance
Media Contacts
Company: Kulfi Foundation
Contact Name: Jordan Max
E-mail: [email protected]
Location: United Kingdom