Kylon Foundation combines crypto investors with charity services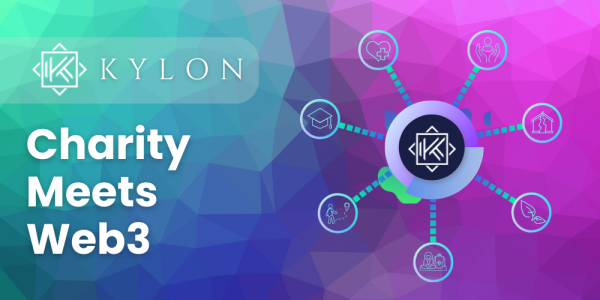 Wien, Austria, 21st November 2022, ZEXPRWIRE, Kylon Foundation is a newly emerged crypto platform with new concepts in the market. In the latest developments, it facilitates its users by combining crypto investors and Charity services. The initiative produces permanent and conscientious solutions to alleviate the difficulties of underprivileged people.
By purchasing Kylon Tokens, people may experience the happiness of delivery of funds accumulated by the Kylon Foundation at a rate of 6.5 % to Refugees, the Homeless, people affected by Natural Disasters, Children who have difficulty getting an education and environmental activities, and those in need in the field of health.
Kylon Foundation has also launched a cryptocurrency based on the Bsc SmartChain network to achieve its charity milestones. The Kylon token's development has occurred with the use of blockchain technology. The token has been established as a modern civilization coin produced using blockchain technology to contribute to the benefits of Non-Governmental Organizations to humanity.
The token economics of Kylon Token are as follows:
With a total supply of 1,000,000,000 $KYLN Tokens, there is a total of 6.5 percent buy tax and a sell tax of 6.5 percent that further breaks down into:
Team Distribution 10%
Charity Distribution 15%
Marketing Distribution 5%
Burn Distribution 10%
Public Distribution 40%
ICO Distribution 20%
The Liquidity Lockup Time is 365 days with three following scenarios:
The owner can't mint tokens
The owner can't set a blacklist
The owner can't charge fees over 10%
Consequently, the vision of Kylon Token is to create the world's most extensive donation system in the crypto field, produced with blockchain technology. It strives to improve the living standards of people in need worldwide and to become the best cryptocurrency in its area by developing our project where people can donate with crypto.
About the company – Kylon Foundation
Kylon signifies the importance of charity through its newly launched cryptocurrency. It aims to turn crypto investors around the world into a kind of donors individuals. It is focused on supporting medium-sized organizations with strong local influence in their fields of activity. The team is also aware of the effectiveness of large international aid organizations. Furthermore, the company donates the revenues they generate in proportions determined by the team and through community voting.
For further information, visit: Links: https://linktr.ee/kylonfoundation
Website Foundation: https://www.kylonfoundation.org/