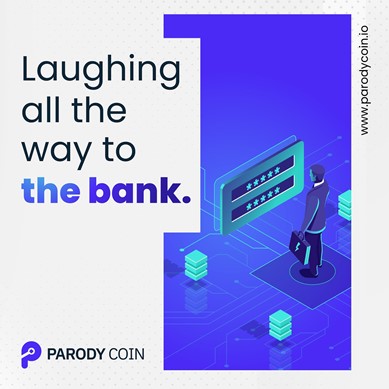 New York, US, 4th May 2022, ZEXPRWIRE, Parody Coin with its plans to revolutionize the NFT world has plans for its metaverse, to be called Paroverse according to its white paper. Parody Coin (PARO)
Parody Coin (PARO) still in its presale stage is a fairly new name in the Metaverse although its popularity is increasing by the day and the ambitious plans in its white paper are a part of the public's growing interest in the platform. The Parody Coin (PARO) platform's major objective is to change the world of the NFT marketplace as we know it by making NFTs accessible to all.
The platform plans to allow the creation of parodies of popular NFTs based on the BNB Smart Chain as well as other blockchain networks. Users can mint and trade these utilities at affordable prices and even the original owners can own the NFT parodies by burning or locking the originals.
Parody Coin (PARO) will operate as a super app with its own Decentralized Apps (DApps) of which some will facilitate the minting, trading and use of the NFT parodies.
Investors can also gain passive income from various avenues on the platform. Through staking, the creation of NFT parodies and ParoRewards is the platform's way of rewarding long term holders of its tokens.
Caprice Finance (CFT) is another new deflationary token that has plans to impact the NFT world. According to its white paper, users will be able to exchange, verify or burn their NFTs. Caprice Finance (CFT) has been predicted to increase the current value of the NFT market.
Caprice Finance (CFT) is a potentially worthy investment because of its high usability and its potential to create a return on investments for its owners. The token will pay a 2% transaction fee to users who transact with it across all blockchains and also seeks to reward its long term holders with additional tokens.
The Metaverse With The Sandbox (SAND) and Decentraland (MANA)
With its Alpha launch in December of 2021, The Sandbox (SAND), boasting a market cap value of more than $3.1 billion, is the third most valued Metaverse cryptocurrency. It currently has over 130,000 holders. The Sandbox (SAND) is designed with vibrant colours like that of Fortnite and in a block style which makes for an engaging and fun experience for players. It's no wonder it has been compared to the likes of Fortnite and Minecraft, especially with its RPG-style 3D Metaverse.
The Sandbox (SAND) has partnerships with global celebrities like Snoop Dogg who has been said to be creating his own island in his "Snoopverse".
The platform has also become one of the most popular virtual real estate companies with plots of land listed on OpenSea. SAND is the native utility token of The Sandbox platform.
Decentraland (MANA) is a top platform in the Play-to-Earn (P2E) 3D Metaverse world. It has a beta desktop client and is accessible to a wide range of players with its in-browser feature.
Decentraland (MANA) also has a large virtual real estate platform on OpenSea and has some of the most expensive virtual real estate options in the Metaverse which makes it and The Sandbox (SAND) major competitors. The ICE Poker virtual casino is one of the top places for earning money in the Decentraland (MANA) but players have to purchase a $2,000 wearable NFT to play.
MANA is the primary utility coin on Decentraland and is also compatible with Polygon (MATIC) which means that users can trade with low fees.
Parody Coin (PARO) and Caprice Finance (CFT) have plans to impact the NFT and metaverse world and they have the capacity and potential to do all they set out to. They are both still in their presale phase which makes it the perfect time for investors to add them to their portfolios.
Parody Coin (PARO)
https://presale.parodycoin.io/register
Caprice Finance (CFT)
https://presale.capricefinance.com/login
Keywords: Parody Coin, PARO, Caprice Finance, CFT, The Sandbox, SAND, Decentraland, MANA, Metaverse, NFT.