Prospect Ignite Reveals Enhanced ROI and Effective Digital Strategies for Home Services Providers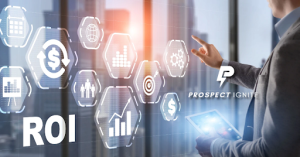 Tampa, FL, 10th September 2023, ZEX PR WIRE, Prospect Ignite, a prominent figure in the digital marketing landscape, has unveiled insightful data that showcases their prowess in generating higher Return on Investment (ROI) for home services providers. These findings reaffirm Prospect Ignite's dedication to delivering value-driven solutions for businesses in the digital sphere.
A recent study conducted by Prospect Ignite underscores the substantial impact of their digital marketing services. Home services providers partnering with Prospect Ignite experienced an average of 25% increase in ROI within the first year of collaboration. This enhanced ROI substantiates the company's commitment to cultivating a favorable business environment for their clients.
Central to this success is Prospect Ignite's strategic approach to digital marketing. By tailoring campaigns to suit individual business goals, the company facilitated a 30% average growth in website traffic for their clients. This targeted approach fosters not only increased traffic but also quality interactions that can translate into tangible business opportunities.
Nathan, CEO of Prospect Ignite, shared his perspective on these findings, noting, "Our focus has always been on delivering outcomes that matter. These results underscore our dedication to driving tangible growth and proving the effectiveness of our strategies."
One notable highlight is the significant improvement in lead acquisition costs. Businesses leveraging Prospect Ignite's services witnessed an average reduction of 20% in cost per lead. This cost-efficiency factor further solidifies Prospect Ignite's reputation as a provider of strategic digital solutions
Prospect Ignite's dedication to refining and advancing digital marketing strategies continues to set them apart in the industry. With a commitment to providing comprehensive support and results-driven campaigns, the company equips home services providers with the tools needed to thrive in today's digital landscape.
For a more detailed analysis of these findings and a deeper understanding of how Prospect Ignite's approach can enhance ROI and digital strategies, please visit: https://prospectignite.com/ 
Stay informed by connecting with Prospect Ignite through their social media channels:
Linkedin: https://www.linkedin.com/company/prospect-ignite/ 
Facebook: https://www.facebook.com/prospectignite 
Instagram: https://www.instagram.com/prospect_ignite/ 
Twitter: https://twitter.com/prospectignite 
Contact Info:
Prospect Ignite
(786) 876-8057
Website: https://prospectignite.com