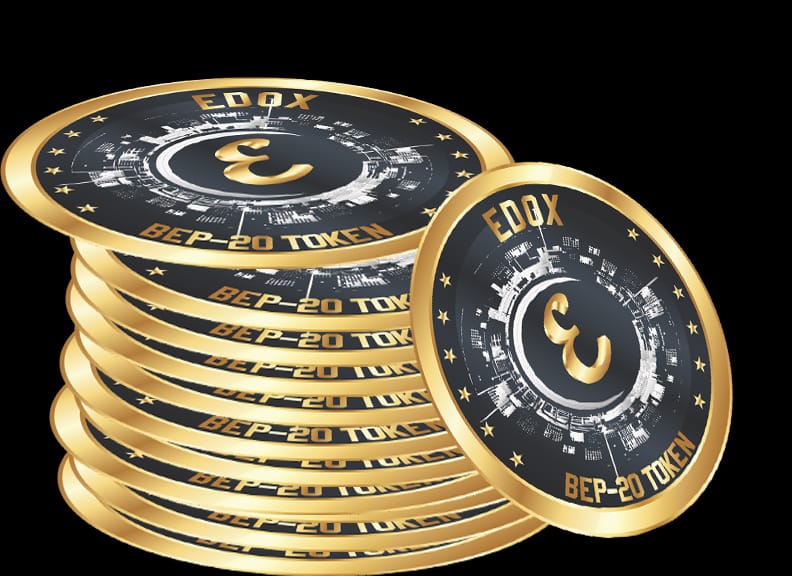 Tampines, Singapore, 24th Dec 2021, ZEXPRWIRE, Black Bit Mart, a Switzerland-based crypto company, has announced an exchange airdrop courtesy of its cryptocurrency named Edox coins. Crypto airdrops are a good way to bolster a portfolio without purchasing a cryptocurrency. Airdrops are worth pursuing by crypto enthusiasts who want to keep up-to-date with current developments and actively manage their portfolios frequently.
The airdrops contest is valid until 31st January 2022, giving enough time to people who may want to benefit. It is open to those already signed-up on the platform and those yet to sign up. A user will get a sign-up bonus of 50 Edox coins worth $5 from Black Bit Mart upon signing up. The company also offers a KYC bonus of 50 Edox coins worth $5 and a referral bonus of 100 Edox coins worth $10.
That's not all. Those who deposit any cryptocurrency to Black Bit Mart Exchange will also get free Edox coins. By depositing between $10 to $50, users will get 5% Edox coins.
Those who deposit between $51 to $100 will get 10% Edox coins, while those who deposit between $101 to $500 will get 25% Edox coins. The highest percentage of 50% Edox coins will be enjoyed by those who deposit any amount above $500. These percentages refer to the value of Edox coins they will receive as a percentage of their deposits.
Black Bit Mart discourages users from creating fake accounts to benefit from these bonuses, which will lead to their accounts being suspended permanently. Black Bit Mart also calls upon experts who can create videos to promote the exchange of Edox coins.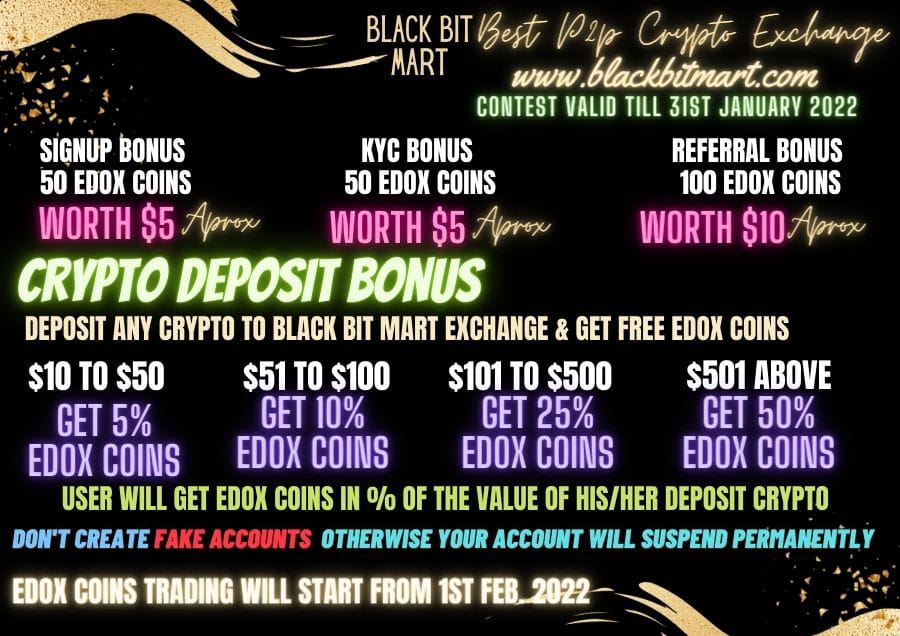 Those who can create videos longer than three minutes will be awarded $100 worth of bitcoins after the videos attract 200 views or more. Videos that attract over 5000 viewers will earn an extra $100. Black Bit Mart is warning users against creating duplicate videos. This contest will run until 31st December 2021.
Black Bit Mart is the most reliable crypto peer-to-peer (P2P) exchange. They launched a top-notch auto-matching peer-to-peer engine that helps them to provide real-time exchange services in cryptos, including Tether (BNB)(USDT), Ethereum (ETH), and Bitcoin (BTC). At the launch, they gave their first clients Edox coins to become part of their success story.
Edox coin was launched in July 2021, but it has gained unprecedented popularity among crypto enthusiasts. The first airdrop started in June 2021 and ended in September 2021. It was a great success. The BlackBit Mart Exchange offers users an easy-to-use interface to trade cryptos with ease. The interface has exceptional features, including Airdrop, Stake, Faucet, and Game.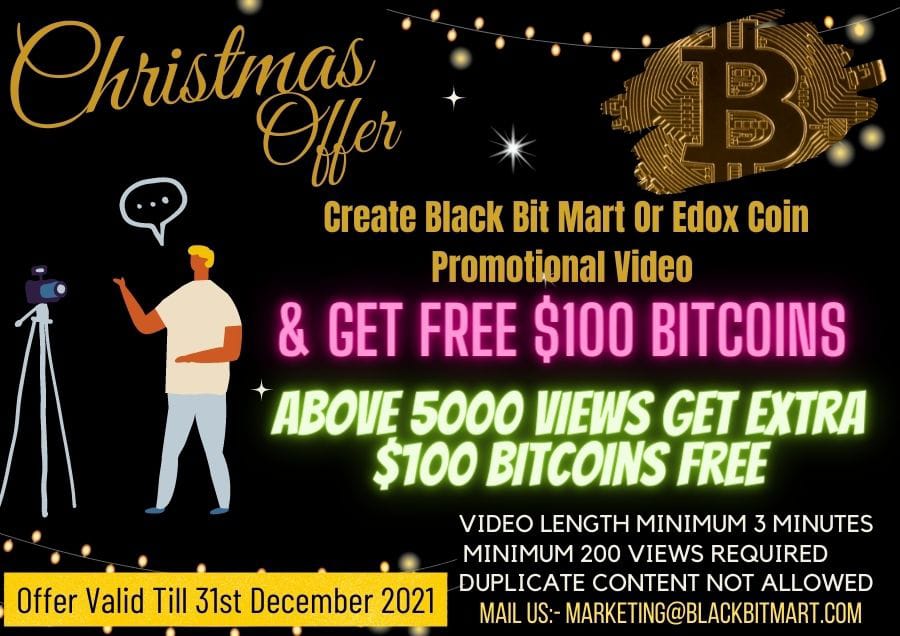 Edox coin is based on a blockchain technology called Bep20 Token coin, making it safe and secure for all types of online transactions. Moreover, the coin is compatible with third-party services, exchanges, wallets, etc., and is popular for its user-friendly integration. These prove that the Black Bit Mart airdrops are a safe and risk-free endeavor, and the platform is also safe and secure for crypto exchange.
Media Contact