Much WOW – DOGE booms, Elon Musk becomes DOGE meme warrior
Vienna, Austria, 6th February 2021, ZEXPRWIRE , Liquidary is an ambitious, upcoming platform for everything crypto. Liquidary is a partner of Autowhale, an established algorithmic trading software provider, market maker, and consulting company.
DOGE today is worth about 0.05$ as of today. In the recent weeks, Dogecoin experienced a dramatic surge in price, with Elon Musk sharing humoristic tweets about the meme cryptocurrency. The coin almost reached its All-Time-High vs. Bitcoin at over 200 sats per DOGE.
Besides all the buzz on social media and traditional media, DOGE is actually a great project in terms of a testing ground for Bitcoin and other similar constructed coins. Dogecoin is also available for tracking on Liquidary.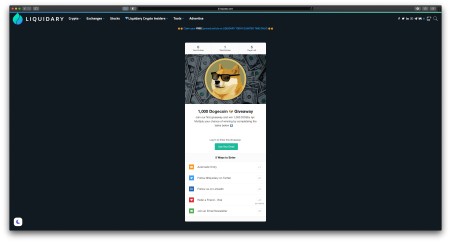 DOGE giveaway on Liquidary
Liquidary is excited to start the first giveaway in a series of giveaways. The first giveaway prize will be 1,000 DOGE for a lucky winner.
To participate people can sign up with their email address and claim a ticket in the lottery. To get an even bigger chance of winning there are several options to claim even more tickets to enter such as following Liquidary on Social media, joining the eMail list, or other simple tasks.
What features does Liquidary offer?
Liquidary offers a wide range of features such as
• Comprehensive market data on over 5,000 cryptocurrencies
• Detailed ranking of cryptocurrency exchanges
• Stock screeners for American, European, Indian and Asian markets • Educational content and markets insights
• Featured startup content
• Regular giveaways with awesome prizes
All of the above features are available at no charge at Liquidary!
Liquidary – Plans for the Future
Liquidary's plans are ambitious. To make Liquidary stand out from the colorful sea of crypto companies out there, Liquidary is working with a scientific research driven approach to develop a algorithmic-trading grade set of metrics on markets that are available to the masses and not just some high-volume trading desks.
Liquidary will continue to innovate and develop reliable solutions for traders and add more indicators, screeners and market data points over the coming months and years!
There will also be a bigger focus on an educational and news related section – Liquidary Insiders – where you will find hands-on guides and updates on markets, together with the content on exciting startups, that can claim their free article to talk about their projects.
Web: Click Here
Twitter: Click Here
Telegram: Click Here
LinkedIn: Click Here