Dubai, UAE, Feb 22, 2023, ZEXPRWIRE, Sustainable growth is becoming increasingly important for businesses of all sizes, and ESG (Environmental, Social and Governance) reporting is the perfect way to show stakeholders that a company is committed to doing their part. At the World ESG Summit you can witness how through ESG reporting, businesses are able to provide transparency into their practices and policies, demonstrating they are actively taking steps towards sustainability. With this information, investors can make more informed decisions on which companies they would like to invest in or support.
Investors are becoming increasingly aware of the need for sustainable investments, leading many organizations to add ESG metrics into their investment portfolios. This enables them to track how well companies are performing against sustainability goals such as reducing carbon emissions or investing in renewable energy sources. Furthermore, it allows them to look at different aspects of a business such as corporate governance and social responsibility initiatives.
ESG (Environmental & Social Governance) is now a fundamental part of any organization's strategy for growth, whether the goal is to seek investment, increase inventory, or promote the brand.
The demonstration of a clear, compliant, and measurable ESG programme is essential at every level of the business if that business is to succeed can be seen in the World ESG Summit. ESG is also under increasing scrutiny from investors, governments, regulators, philanthropic organizations, media and, more recently, social media platforms and that is why ZEX PR WIRE is providing exclusive coverage to World ESG Summit so as to bring awareness about the importance of ESG for businesses.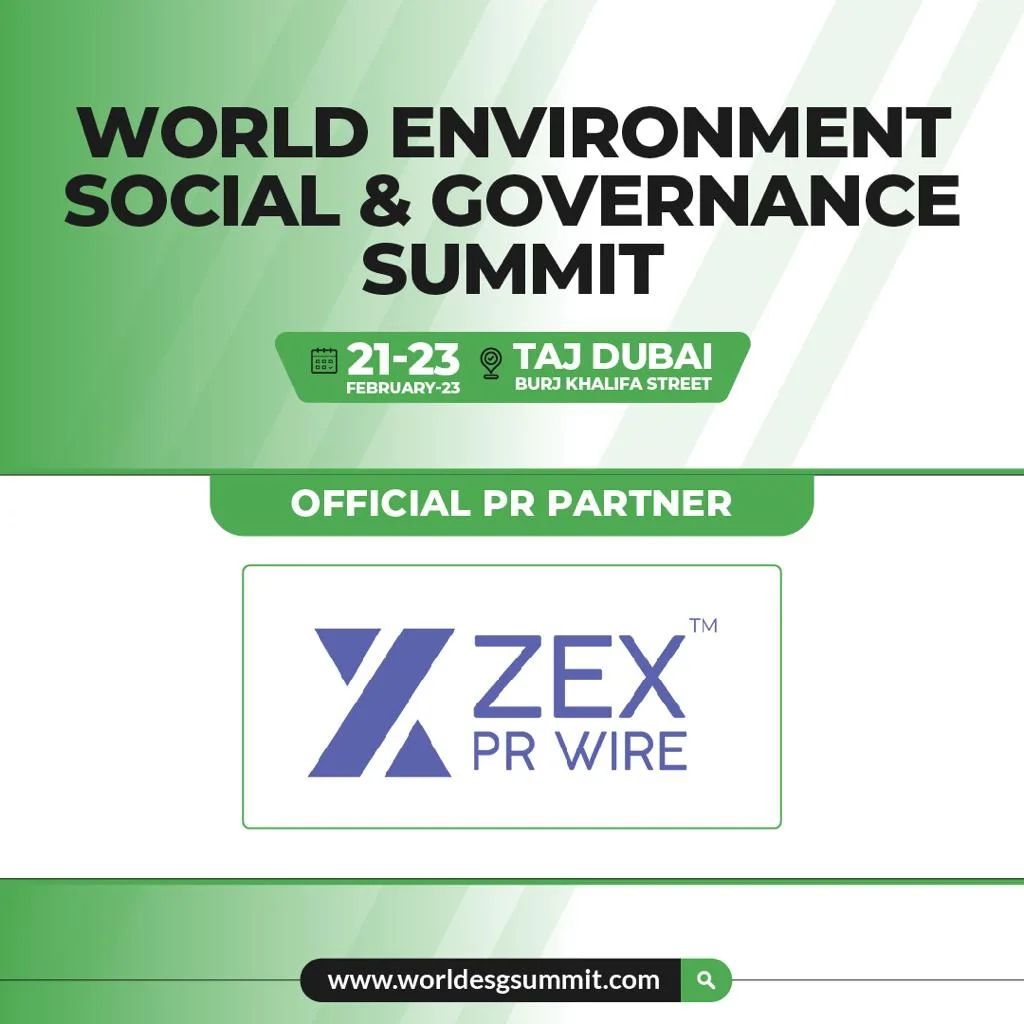 This three-day Summit will be held in Dubai, United Arab Emirates on February 21st to 23rd 2023 and is a dedicated attempt to one-roof for investors, stakeholders, customers, and green economy enthusiasts from all over the globe.
KEY TOPICS:
ESG Overview: Road to Net-Zero 2050 opportunity & challenges
ESG regulations around the world
Impact investing
ESG for all-sustainable built environment
Circular economy goals
Sustainable finance: The next big step
Blue and green hydrogen
The role of hydrocarbon industry in Carbon Capture & Storage Success
ESG factors and business drivers: Separating out ESG factors
ESG challenges: Stakeholders' perspectives
Climate policy and green agendas
The reliable journey toward decarbonization
Why the world needs sustainable development leaders
Accelerating the growth of the global green economy
ESG reporting
How to scale up the world's circular economy?
The Net-Zero standard development process
Why is it important for ESG companies to bring awareness in the media?
Environmental, Social, and Governance (ESG) companies are a key component of the global economy. These businesses focus on sustainability and ethical practices to support their corporate mission. As awareness for ESG grows in popularity, it is important for these companies to bring attention to their cause through ZEX PR WIRE
Bringing awareness of ESG practices through ZEX PR WIRE can help shape public opinion and provide an opportunity for people to learn more about this movement. Utilizing news outlets, social media platforms, and other information sources can allow these companies to reach out to larger audiences and create conversations that matter. By having conversations about issues such as renewable energy sources or sustainable farming methods, ESG companies can educate consumers on how they are making a difference in the world. This also serves as an opportunity for members of the community to show their support by engaging with ESG initiatives like campaigns or donations drives.
About ZEX PR WIRE ™
ZEX PR WIRE ™ is Press Release Distribution SAAS platform, which syndicates press release content to Tier 1,2 & 3 media outlets globally. ZEX PR WIRE ™ has partnered with more than 500+ Media outlets. ZEX PR WIRE ™ is a 99% automated platform which can be used by any marketing or PR team in a firm or even by individual PR agencies and marketing firms too for conducting and managing PR campaigns of their clients.
With ZERO mail trails, ZERO mediators, & Truly automated PR platform, now you can do any press release campaign in less than 72 hours using ZEX PR WIRE ™ .
Interested readers who would like to know more about the company's services, please feel free to contact the company or visit the website https://zexprwire.com/
For partnership and collaboration, reach Ms. Prerna : [email protected]
PR Contact:
ZEX PR WIRE
[email protected]
http://zexprwire.com/