Creighton Films has released a riveting film about a history of a couple and there home townhistory.
Mobile, Alabama, 5th Feb 2022, ZEXPRWIRE, THE HISTORY THAT HAUNTS US, is a powerful psychological horror film based on the mind of published author Creighton Hobbs, this film explores the journey that Brian andJennifertake to find the history that not only haunts them but their town as well. The urban legends of The WitchplayedbySierra Grace, and the kaloki man played by Tommy Wilson not only haunts Brian and Jennifer but reeks horror oneveryone in this small town. The History That Haunts us has debuted on Amazon Prime Video on January 15, 2022. Non-members and members can rent or purchase this feature film on Amazon.com.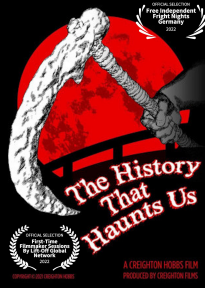 "This is a movie like you have not ever seen before in your life," explains Hobbs, who is originally fromthesmall town of Escatawpa, Mississippi, and now resides near Mobile, Alabama. "I want to give the people somethingnew and fresh to watch that is truly unique but will want you to find out more."
The film takes viewers through the unbelievable journey of Brian played by James H Keating and Jenniferplayed by Erica Green, because not only do they find out about the haunting past but they see it as well throughJennifer's psychic abilities she has inherited. You will not only see how their own family history plays intotheir future but you will also see what has happened to their small town unsolved mysteries. There are so many twistsand turns to keep viewers on the edge of their seats wondering what is going to happen next?
Acclaimed as "totally unique" and "nothing you have ever seen before," Creighton Films premieres The History That Haunts Us a film with Amazon Prime Video as its exclusive streaming partner. It is an emotional roller coaster ride andwill leaveviewers wondering, "What is going to happen next?" Director and scriptwriter Creighton Hobbs has always wantedtogothat extra mile for everyone to enjoy his movies. The History That Haunts us is no exception to a very truestatement.
For more information about The History That Haunts Us and to view the trailer, visit the official website at www.thehistorythathauntsus.com or our imdb page: The History That Haunts Us IMDB For additional press materials, please email [email protected]
About Creighton Films
Creighton Hobbs and Creighton Films has created true to life documentary films and now other genres as well. Usingnew media and internet video distribution, Creighton Films has created its latest feature film The History That Haunts us . To learn more about Creighton Films, please visit www.thehistorythathauntsus.com. The History That Haunts Us can be viewed by clicking the following links on Amazon US and UK LINK: https://www.amazon.com/dp/B09P4G979X The History that Haunts us is also to be viewed worldwide on the following link: V O D | My Production Ltd
Media Contacts
Creighton Hobbs
(251) 509-8508